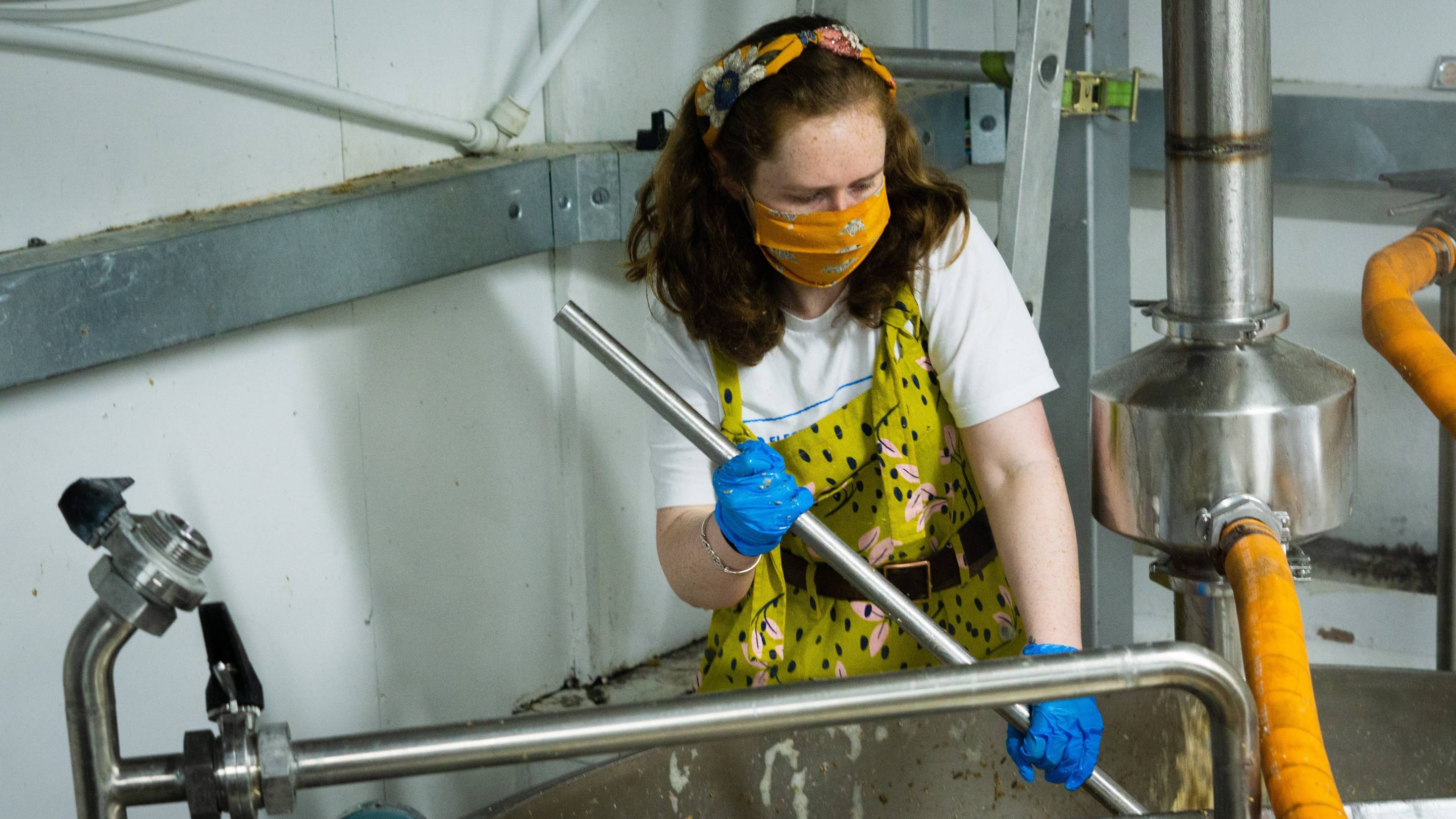 THE HOW
After all the planning and anticipation. The 8th of March came, and it was an early start for Jacqs and I. This was my second ever brewday, the first being a week before when I came in to help brew Mixtape and get the hang of what I was up against. Understanding the process and techniques, (which included a lot of stirring!) made the day go a lot easier. I had Martyn as a helper, but he really did let me take the reins, including most of the stirring, which I am sure he was incredibly happy about.
Into the mash tun went a heafty amount of oat malts and flaked jumbo oats, with a lashing of chit malt to aid the head retention. Next, a lot of hot water to get it to a temperature of 68 degrees, then all the stirring…As we wanted it to get to 7% we then had to dig out the mash and do this all over again! My arms definitely weren't ready for this day and I was fuelled by a lot of coffee.
It was then transferred, ready for its boil, where the hot side hops were added. We decided to use two different hops in this IPA. Sabro for coconut, lime and solaro vibes and Idaho 7 as it added tropical fruits characters, we didn't want a massive bitterness either, so not a lot of hops were added at this time. Were we making a beer pina colada?
Once it was transferred to the fermentation tank, we added another five kilos of Idaho 7 with the yeast, which is a technique called biotransformation. Martyn has written another piece about this which you can read here. 
During the day I kept the other women up to date with photos of me up ladders and stirring. I had also printed out all their photos and taped them to the mash tun, and then to the tank it would ferment in, to make it feel like they were here as well. It would have been a lot more fun if we had all been able to do it together, no offence Martyn! We had a catch-up call halfway through the day to chat about the progress and also what we wanted to call it

THE NAME
We had gone back and forth about the name for quite some time. We wanted something that would make the beer stand out and would tell a story of the reasons behind the beer without being too stereotypical. We also wanted it to be a bit fun, as the process of organising and making the beer was positive and uplifting. There was a lot of ideas, they say six heads is better than one, I think that might have also been a suggestion for the name. In the end it was a blend of two ideas of strength in numbers and sharing support to make Sharing Strength. We also liked the play of strength meaning mental strength and also the abv of the beer.
THE CAN DESIGN 
Now that the beer was safely in its tank and would take around five weeks to be ready (I am sure there is another more technical term than the beer is ready but that is what I am always asking the brewers, so that is what I am sticking with) we had time to look at the can art. We approached Marta, who is an illustrator based in Bristol working under the name Onirical Zubieta and is known for colourful work that looks at women's rights, social issues, and has a positive and hopeful outlook. We thought that she would fit in really well with this project and she was happy to be part of it along with other projects that she had been commissioned for International Women's Day.
We knew that we wanted a nod to each brewery or business in the design, coupled with the theme of support and sharing. Not long later Marta came back with an amazing design that encompasses all the women. We could not be happier. It has the brewery covered in plants, women and animals, a bit of organised chaos which I think works perfectly.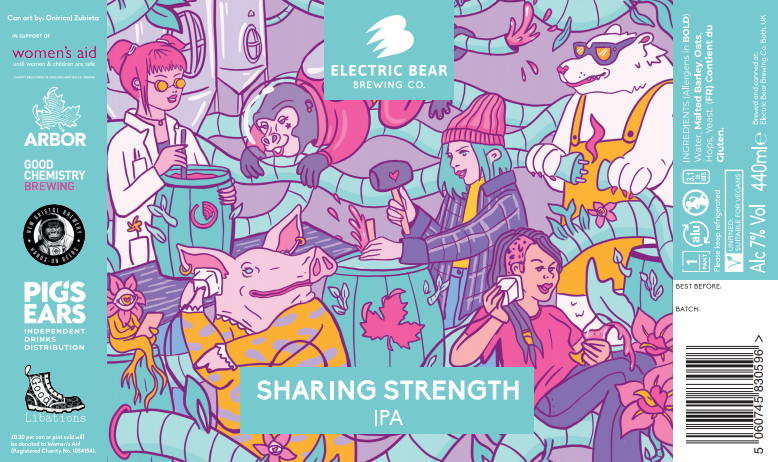 THE RELEASE 
A whopping 40 Kilos of hops were added for the dry hop in three stages, I may be bias here as I have formed a close friendship with this beer, but it was smelling and tasting amazing! I will also be helping with the canning which I'm sure will be a fun and smooth day, and then you all get to try it, while also supporting Women's Aid!
I have loved this journey and it has really taken my everyday job into a new level of passion. It has been an incredible journey from start to finish and there is only really one thing left to do…get these ladies together and drink this beer!
Well, now with the taproom yard open again that dream is a reality, and it is happening 24th of April! I can't think of a nicer way to end this project than to celebrate women, with the ladies who inspire me.
We may even talk about what we do next for 2022 and do it all over again, this time sharing the stirring jobs!