FIERCELY INDEPENDENT
Why Choose Electric Bear?
We're all about making the best beer we can and canning it fresh at source. Bold beers, appreciation for the best things in life and a love of community. To find out more about how we began, check out our story.
What We Offer
If you're here for IPAs then you're in luck! An eclectic mix of funky, fresh and frequently updated ales are available for you to shop online. Feeling spoiled for choice? Pick up one of our MIXED CASES, to experience a variety of styles and find your favourite.
Many just can't get enough of our craft beers, so to save yourself the hassle of ordering altogether, join our BEAR CLUB subscription service today.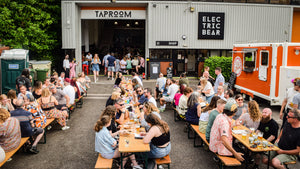 Visit Our Shop & Taproom
We are so excited to be able to welcome you to our taproom in the heart of the brewery!
Opening Times:
Thurs & Friday: 5-10pm
Saturday: 2-10pm
Sunday: 2-6pm
We don't take bookings, so it's first come, first served!
Find us at:
Unit 12 The Maltings
Brassmill Lane
Bath BA1 3JL
///edge.engage.human
Please note all payments are contactless or card, no cash please.
More info
' Super IPAs, fast delivery. Love this brewery! ' A truly innovative range of beers, and always a very decent new IPA worth ordering. These guys are top notch!
Sid
Really nice guys. The pink lemonade sour is superb. 10/10 recommend
Hannah
' Gold standard service. ' There was an issue on my order. Only a small thing. The way these guys (Rebecca) resolved it sets the benchmark for customer service. 1st class customer experience, very happy to order again. And the beers good too!
Oliver
Reliable, great quality craft beer. That's how you could describe the Electric Bear brewery. Now, their taproom is open again serving that nice nectar and providing good atmosphere. On top of that they have live DJ events sometimes! Give it a go if you are around.
Gergely
Absolutely top notch beers . Love em !!!!!!!!!!
Peter
Brewed On The Edge Of Bath
We create innovative, delicious, and modern award-winning beer that delivers on that 'glad to be alive' vibe. To find out more about who we are, check out our story.
Our Story